5 Things You Need to Know About Built Green Homes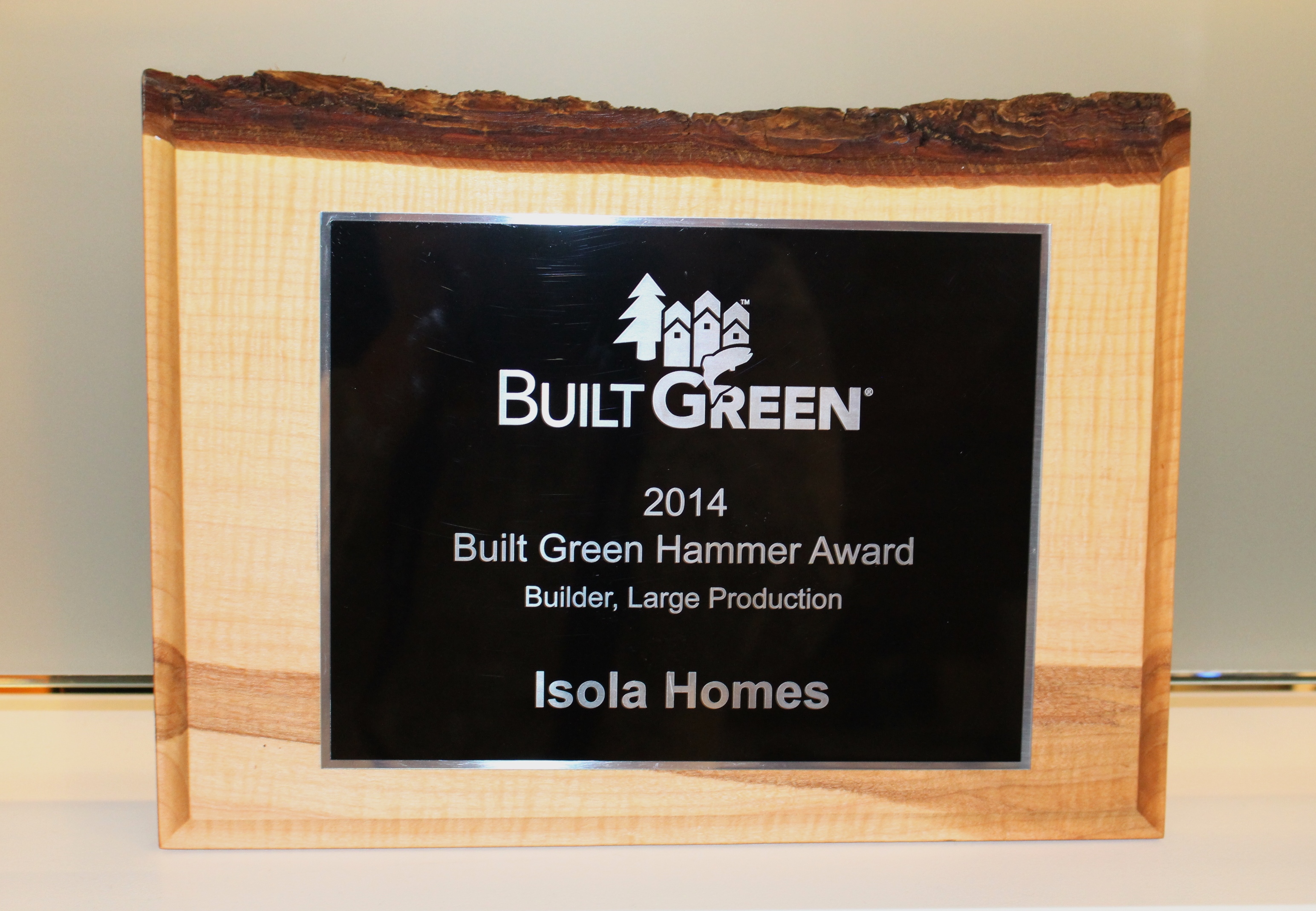 Isola Homes is proud to be the Green Hammer Award winner two years in a row. In 2014, we won our second Green Hammer award for having over 50 homes Built Green certified. This year we're taking things a step further: all new Isola Homes that start construction after June 2015 will be certified 4 Star Built Green!
But what is Built Green, really? And what does it mean for you? Read on to discover how a Built Green Isola Home is designed to be a lasting, healthier home for you, your family, and the Pacific Northwest environment.
1. WHAT IS BUILT GREEN?
Built Green is a voluntary program of set building standards designed to create environmentally-friendly residential buildings. The results are efficient, cost-effective, and lasting homes that are built with the best practices in mind from the planning stages to construction.
2. WHO IS BUILT GREEN?
Built Green is a non-profit program of the Master Builders Association of King and Snohomish Counties. It is a local organization designed for builders and developers, by builders and developers.
Since its launching in 1999, Built Green membership has grown to hundreds of builders, designers, developers, suppliers, and realtors committed to community health and sustainability in the Puget Sound.
3. HOW DOES AN ISOLA HOME GET BUILT GREEN CERTIFICATION?
The certification process involves planning and building an Isola Home around a checklist of Built Green standards. Some criteria on this checklist are required; most are worth a number of points. The total points earned translate to a simple star rating that shows what Built Green level a home is – 3, 4, or 5 Star Built Green. A third party verifier is hired by Isola to track all the green features going into a home. Once completed, the verifier submits a final, signed checklist for review and a Built Green certificate is awarded!
4. WHAT KIND OF CRITERIA MAKES A BUILT GREEN HOME?
The Built Green checklist includes hundreds of criteria in the following categories. (Limited examples are given for each category.):
• Site + Water – Landscape with plants appropriate for site topography and soil types, emphasizing use of plants with low watering requirements [drought tolerant]; Use the most efficient aerator available for kitchen faucets, lavatory faucets and showerheads
• Energy Efficiency – Use ductless minisplits, efficient lighting and appliances
• Health + Indoor Air Quality – Use low toxic/low VOC paint on all major surfaces; Limited or no use of products that contain added urea formaldehyde for any interior applications
• Materials Efficiency – Achieve a minimum recycling rate of 50% of waste by weight; Practice waste prevention and recycling and buy recycled products
5. WHAT ARE THE BENEFITS OF A BUILT GREEN ISOLA HOME?
Built Green certification means that your Isola Home saves you money on operating costs: many features are energy efficient, from lighting and appliances to special water heaters and insulation. Your family also benefits from a healthier home environment from improved indoor air quality because low toxic paints, finishes, and carpets are used. Drought tolerant landscaping and pervious paving around your house means water conservation and saving the Pacific Northwest salmon habitat. Durable siding, decking, and other low maintenance features go into a Built Green home, which means less wear and tear and maintenance from you.
At Isola we focus on integrity, function, and design in homebuilding and being a Built Green member underscores what we do!