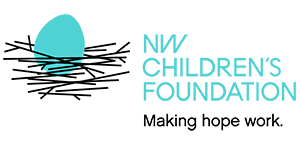 We are proud to sponsor NW Children's Foundation
The NW Children's Foundation is dedicated to ending the cycle of child abuse and neglect. The foundation invests in programs that help to heal children who have been abused, prevent families from engaging in damaging behaviors, and provide at-risk youth with mentoring and positive adult role models.
In addition, they also provide education and outreach in order to facilitate collaboration between different individuals and businesses. These partnerships serve to build a cohesive community framework that is more effective at identifying the causes of child neglect and abuse and preventing them from happening in the first place.
The NW Children's Foundation hosts a number of events every year that make it that much easier for interested parties to take part in and contribute to the foundation's ongoing efforts. Since 1985, they have distributed over $16 million in grant money to human services agencies, primarily in the Puget Sound region.
Learn more about the mission of this organization and how, together, we can make a difference in children's lives and our community.