5 Things You Should Know About Capitol Hill
While Seattle is full of quirky and offbeat neighborhoods, one of the city's most unique neighborhoods is Capitol Hill. Located close to downtown Seattle, Capitol Hill is home to several beautiful parks, Seattle Central College, and Lake View Cemetery, the resting place for a number of the city's founders and other influential figures. Whether you're thinking about moving to Capitol Hill or you just plan on visiting, it never hurts to learn a little more about this one-of-a-kind neighborhood. So, here are some of the things you should know about Capitol Hill before you go.
So Much Food ... And Drink ... And Music
Capitol Hill is the perfect place to be when you're in a spontaneous mood thanks to its numerous restaurants, bars, and nightclubs. If you suddenly find yourself craving Mexican food, Italian, burgers, or just about any other type of cuisine, you won't have any problem satisfying that urge. Similarly, if you decide that it's a great night to relax with a cocktail in a cozy, intimate bar or you want to kick up your heels on the dance floor, you'll have lots of options. Some of our favorite spots include: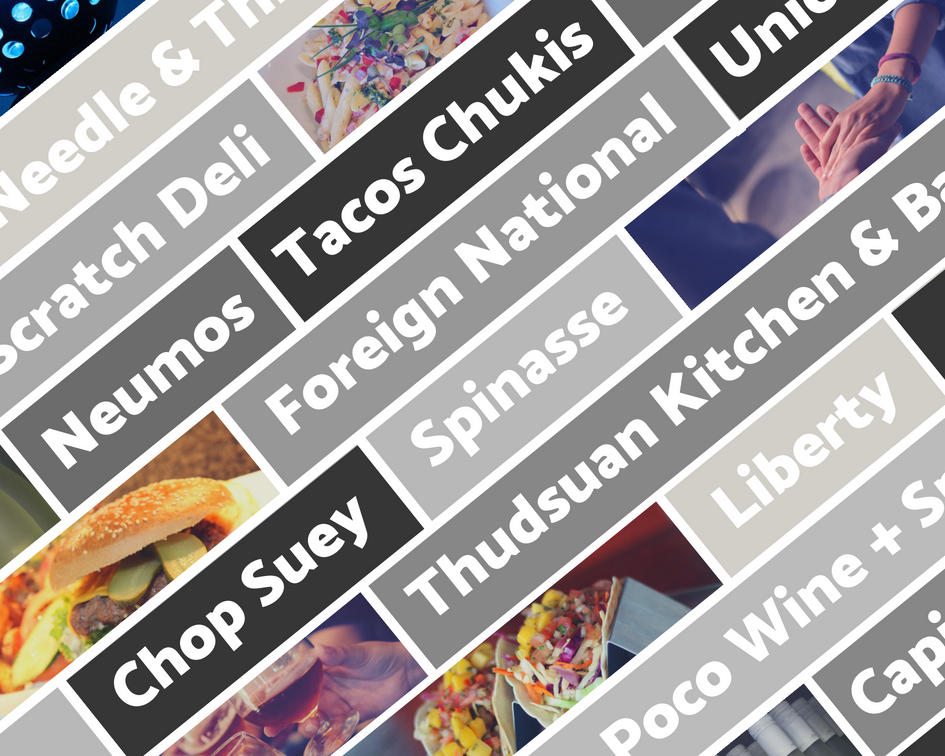 Food - Skillet (1400 E Union St), Tacos Chukis (219 Broadway E), Spinasse (Italian cuisine - 1531 14th Ave), and Thudsuan Kitchen and Bar (Thai - 1818 E Madison St)
Drinks - Needle and Thread (1406 12th Ave), Poco Wine + Spirits (1408 E Pine St), Liberty (517 15th Ave E), and Foreign National (300 E Pike St)
Music - Neumos (925 E Pike St), Chop Suey (1325 E Madison St), Unicorn (1118 E Pike St), and Capitol Cider (818 E Pike St)
Music lovers will also be delighted with the annual Capitol Hill Block Party, which happens toward the end of July. This three-day festival features dozens of musicians on several different stages as well as food and drink vendors.
It's Also a Prime Spot for Art & Culture
Capitol Hill is one of Seattle's Arts & Cultural Districts, a fact that won't go unnoticed as you walk along the neighborhood streets. With a plethora of art galleries and studios, theaters and workshops, there are places of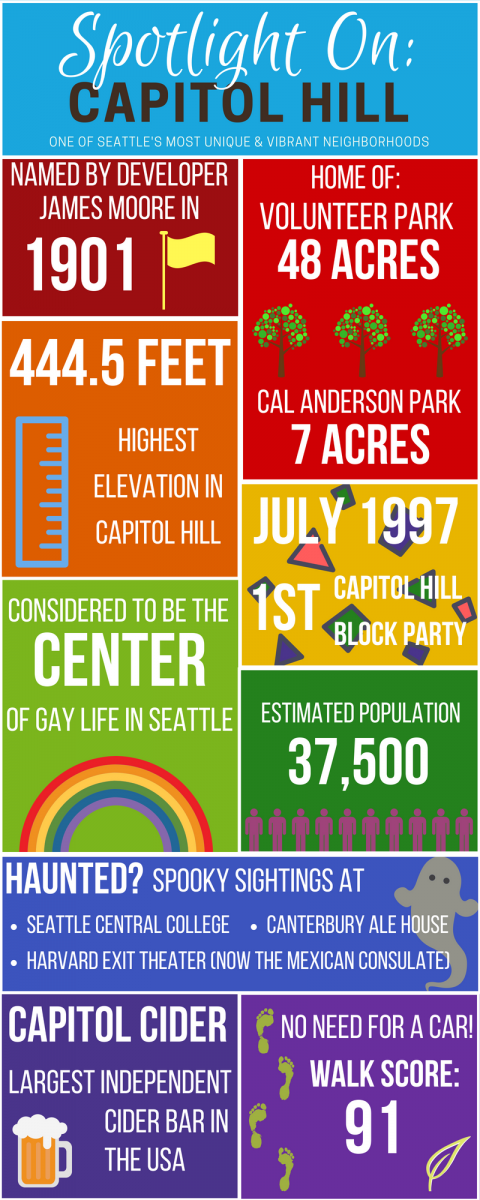 interest around just about every corner. To name a few: The Capitol Hill Art Walk takes place the second Thursday of every month. The Strawberry Theater Workshop produces several plays every year. At Century Ballroom, you'll have the opportunity to learn a few different styles of dance. And the Northwest Film Forum shows a steady stream of independent movies while also hosting film festivals and workshops.
A Car's Not Necessary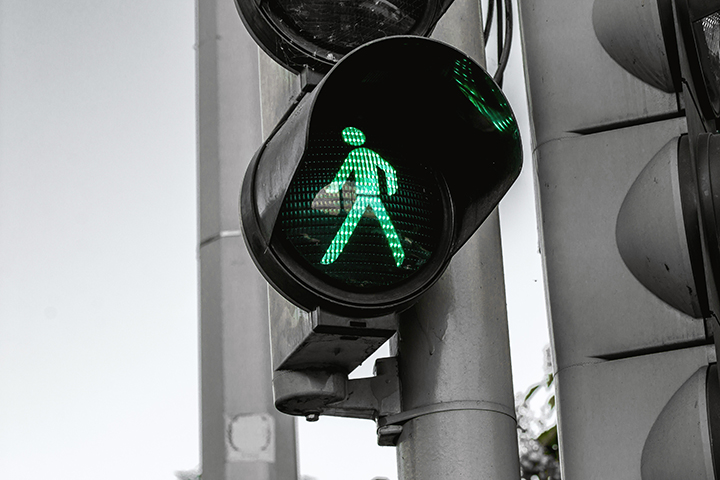 If you don't have a car, don't worry - Capitol Hill is incredibly walkable. Regardless of where you are in the neighborhood, there will be lots of shops and restaurants within a short walk. The neighborhood has a high walk score of 91 (out of 100), which means that daily errands don't require a car. To travel to other areas of the city, there are several bus routes that run through Capitol Hill as does the light rail. For a little more exercise, consider taking a bike ride. Seattle has a huge bike share program and riding through the city is especially wonderful on a beautiful summer day. (Just make sure to wear a helmet and follow all the rules of the road.)
The Area has a Rich History
While you may expect a place named "Capitol Hill" to be the home of, say, a capitol building, that's not the case with Seattle's Capitol Hill. Named in 1901 by James Moore, a real estate developer, there still remains speculation as to why he named it the way he did. One version of the story states that Moore went with the name Capitol Hill in an effort to persuade lawmakers to move the capitol from Olympia to Seattle. A second version elaborates on this theory and puts forth that he wasn't really trying to get the capitol to move but to attract attention and sell the lots he'd developed. And yet another version claims that Moore simply named it as such for his wife, who was from the Capitol Hill neighborhood in Denver (which does have a capitol building).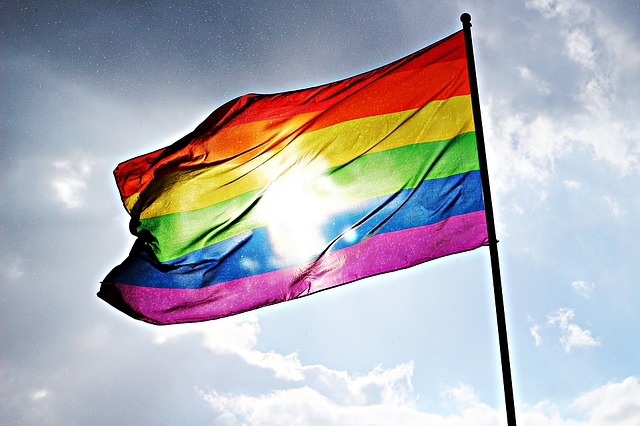 While the area was initially home to a majority of wealthy residents, that changed after World War II when a number of apartment buildings were built and it became more affordable. It was also at this time that what's now known as Seattle Central College opened to provide vets of all races with continuing education and job training. This led to the area becoming more diverse and during the 1960s, the campus was the site of numerous civil rights protests.
Capitol Hill has long been considered to be the "center of gay life" in Seattle. The first (openly) gay bar opened in Capitol Hill in 1973. The area soon after hosted a gay pride week, and in 1977, there was the city's first pride parade. Currently, there's a Capitol Hill PrideFest celebration every year that acts as a prelude to Seattle PrideFest, which is one of the largest and most popular pride events in the country.
It's Home to a Unique Population
With Capitol Hill's history, it shouldn't come as any surprise that a diverse group of people call the neighborhood home. While the demographics of the area are constantly shifting, a significant portion of the population is made up of students and young professionals. Regardless, it's a very welcoming neighborhood and you're likely to see all types of people from all walks of life as you stroll through the area.
Thinking About Moving to Capitol Hill?
While Isola Homes' available properties are constantly changing, we frequently build new townhomes in the Capitol Hill area. Take a look at our Communities page to see what Capitol Hill properties are available.