What You Need to Know About Buying a Home in Seattle
Just as Seattle has its own unique personality, so does its housing market. Seattle, like lots of other markets in the U.S., is experiencing higher home prices as well as an increased demand for housing and a decreased supply. But buying a home in Seattle is still very different from purchasing a property in many other areas. In this unusual market, it can be a challenge to know exactly what you should look out for and expect as a home buyer. To help get you prepared for the process of buying a home in Seattle, we've put together this quick look at what you need to know about purchasing property in Washington's largest city.
You'll Pay a Premium
If you've already been considering purchasing a home here, then you're probably well aware that the Seattle housing market is much more expensive than most other markets in the United States. In fact, as of this writing, it's been the hottest market in the country for over a year and a half. Home prices have increased by about 13% over the past year, while the rest of the country saw home price increases of approximately 8%. Presently, the median home price in Seattle is just about $765,000 with the median price per square foot clocking in at $517.
You may be wondering just why Seattle housing is so expensive. There are several contributing factors that have led to the current state of things. First off, the city's population is booming. From 2016 to 2017, it was the second fastest growing city in the country with a growth rate of 2.5% or an increase of about 17,500 people. So many people are now calling Seattle home in part due to the continually increasing number of jobs from large companies like Amazon, Boeing, and Microsoft.
Although new homes are constantly being built, home building is a process that takes time and one that can't keep up with rapid influx of people. Further complicating the matter is the city's geographic location. Bound by Puget Sound on one side and Lake Washington on the other, there's only so much space for building. What space is available comes with a hefty price tag thanks to its scarcity.
It's Super Competitive
Before you even start looking for homes, you should steel yourself for competition. Homes don't tend to stay on the market very long. Seattle has one of the shortest list-to-sale times at 36 days. Buyers need to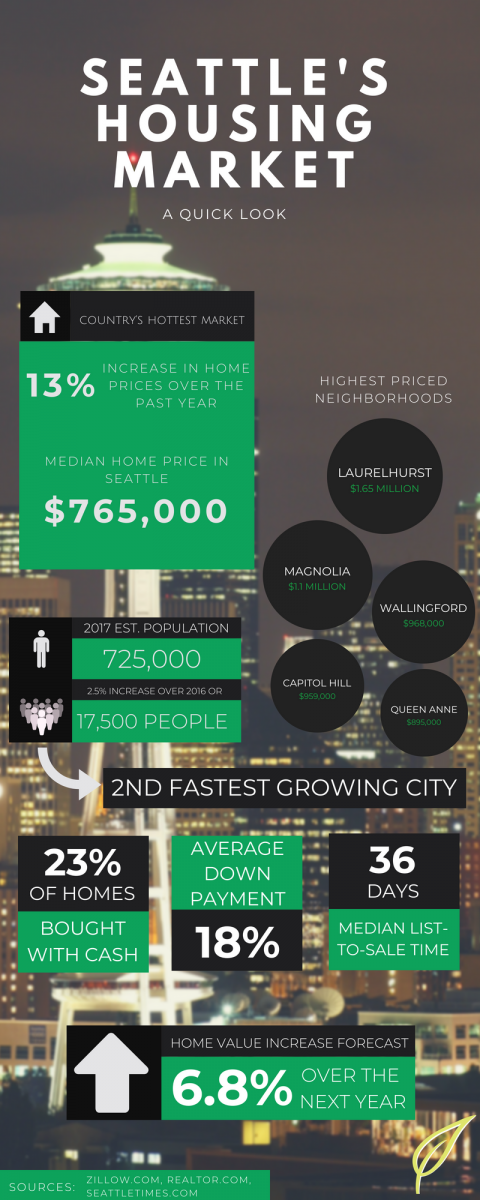 expect to make several offers before having one accepted. Bidding wars are quite common and concessions might be necessary to seal the deal. In addition, many buyers in Seattle are buying with cash. This is often preferable to sellers who then don't have to wait for banks to take care of all the mortgage details.
If you're going to get in the home buying game here, you'll need to be prepared to move quickly and, frequently, offer more than the asking pricing. Take the time to have your financing squared away before you even start looking. If you're not paying with cash, it's almost essential that you get pre-approved for a mortgage if you want any offer to be considered. Finally, because there's so much competition, plan on spending a significant amount of time on your house hunting efforts and moving quickly when you finally find the house you want.
Location, Location, Location (Clichéd but True)
As with all cities, the neighborhood in which the prospective home is located will make a big difference in price. In Seattle, that difference can be a staggering figure. For example, at the time of this writing, the Laurelhurst neighborhood has the highest median listing price at $1.65 million while the Delridge neighborhood has the lowest median listing price at $549,000.
If you're not familiar with Seattle neighborhoods, do your research and get to know them. Each of the city's neighborhoods has its own unique feel and you should be sure that you're looking at homes in places where you actually want to live. Along that same vein, each neighborhood has its own pros and cons. Consider your preferences in terms of things like walkability, proximity to downtown, and transportation options (all of which will also impact the property's price).
Learn How to Compromise (And When Not To)
In this fast-moving housing market, you'll most likely have to make some compromises. The key to this, however, is having a very clear idea of what items you're okay compromising on and what items are deal breakers. The quicker you can look at a home and recognize that it will work for you, the faster you'll be able to submit your offer. That said, this kind of market can also make buyers feel pressured to put in offers on any house that vaguely matches their needs. While that feeling of urgency can be hard to resist, do your best to beat it back. You don't want to end up buying a house that you ultimately find yourself resenting or, even worse, hating. After all, this property will be a place where you spend a significant amount of time and for which you've spent a considerable amount of money. When you know without a doubt what you can and cannot live with in terms of location, amenities, etc., you'll have a far easier and quicker time picking out the houses that may be your future home.
Winter May Offer More Options
Home prices tend to drop during the winter months as there are usually fewer buyers looking in November, December, and January. This is primarily due to a combination of bad weather and the hectic nature of the holiday season. This can mean more of an opportunity for potential home buyers as there's less competition. However, the winter housing market may also feature more homes with severe problems. Homeowners of properties that need significant repairs may not be able to wait until the spring to list their property and, as such, do so in winter instead. Looking at homes in the winter may net you a hidden gem or an overabundance of less desirable properties.
It's Still a Great Investment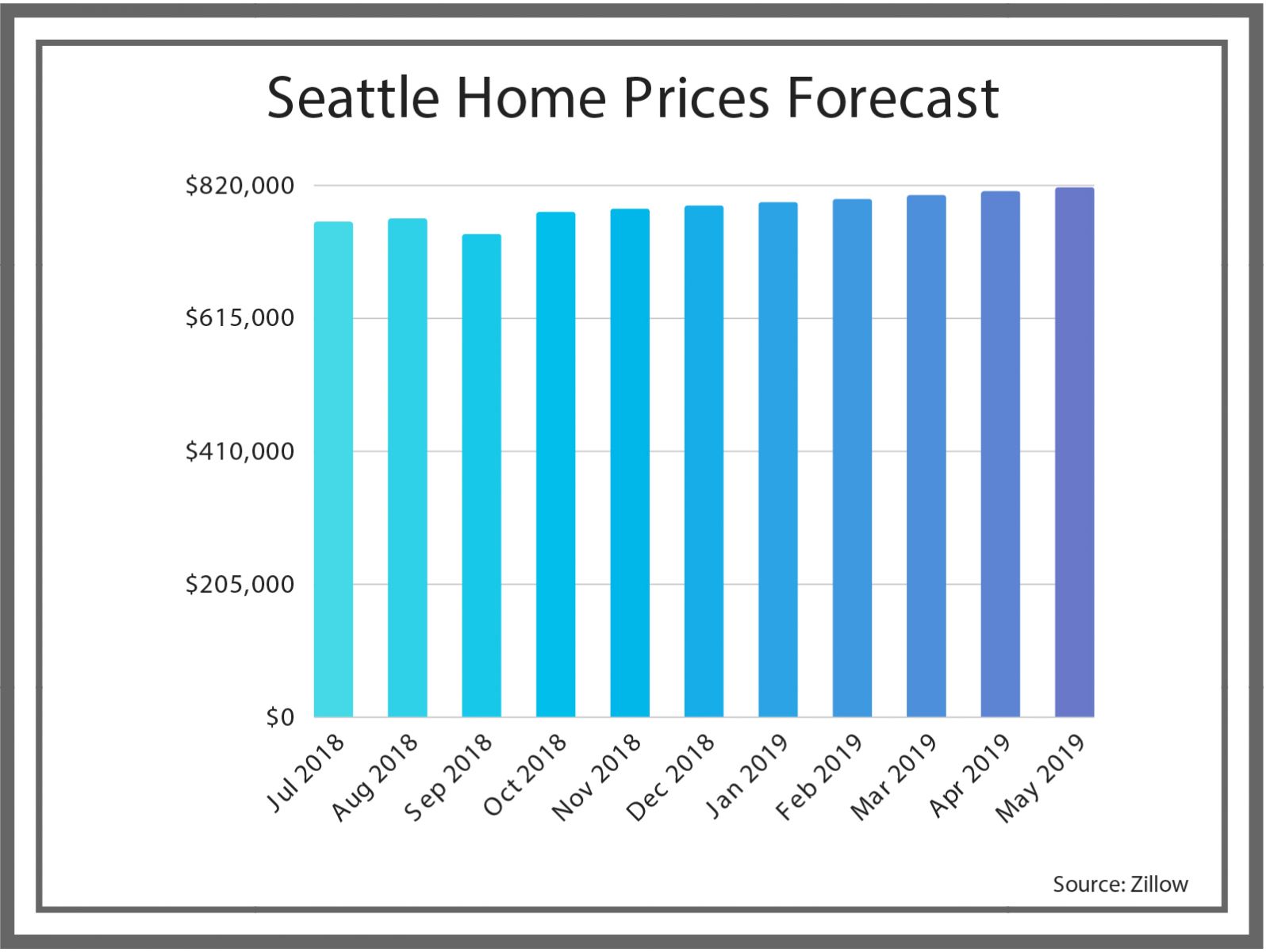 While the facts that the prices are high and the market is competitive can be discouraging, buying a home in Seattle is still a wonderful investment. Home prices are forecast to steadily rise over the next year. Although this predicted rise is anticipated to be at a slower pace than in previous years, it still means that you can expect the value of your future home to increase. The return on your investment will be well worth the time and care you took in buying a home in Seattle.
Interested in Buying a Green Home?
Isola Homes specializes in building sleek, stylish, and modern Built Green homes in Seattle. Take a look at our Communities page to see what's currently available and what properties will be coming soon.