What's Going on with SW Avalon Way?
A quick look at the Seattle Department of Transportation's website shows that there are currently dozens of improvement projects happening throughout the city. It is getting to be summer, after all, which is the season for construction. One of these improvement projects is happening directly in front of one our new communities, Isla Townhomes. So what better time than now to go over exactly what is happening on SW Avalon Way, the benefits of the current project, and how to get to Isla during construction.
The 35th/Avalon Paving Project
Essentially, this project covers SW Avalon Way from the West Seattle Bridge to Fauntleroy Way SW and 35th Avenue SW between SW Avalon Way and SW Alaska Street. The construction area is split into six zones with different zones being worked on at different times. The Isla Townhomes are located in Zone B, which just happens to be the first part of the project to get underway.
Construction began on April 15th and Zone B work is expected to be completed in just a couple of months!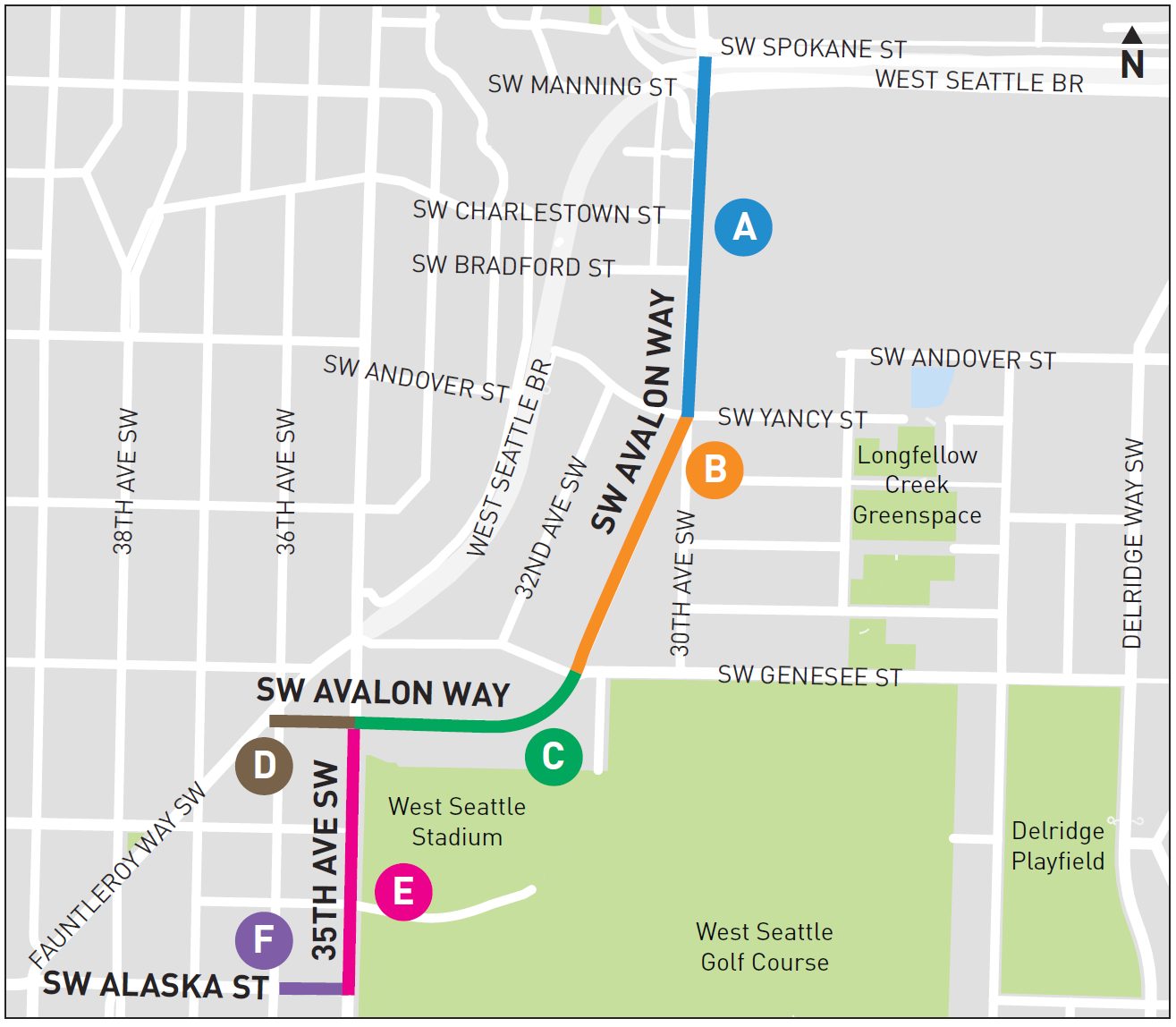 Map provided by Seattle Department of Transportation
What Exactly Are They Doing in Zone B?
The scope of work in Zone B includes:
Demolishing and removing the road for repaving
New drainage systems
New curb ramps
The addition of protected bike lanes
The installation of a new RapidRide transit island
The application of a skid-resistant surface treatment to SW Genesee Street
The below image provided by SDOT shows the new protected bike lanes and the modified parking areas planned for the section of road that's directly in front of Isla. We've highlighted Isla's location as well as the parking area for the townhomes.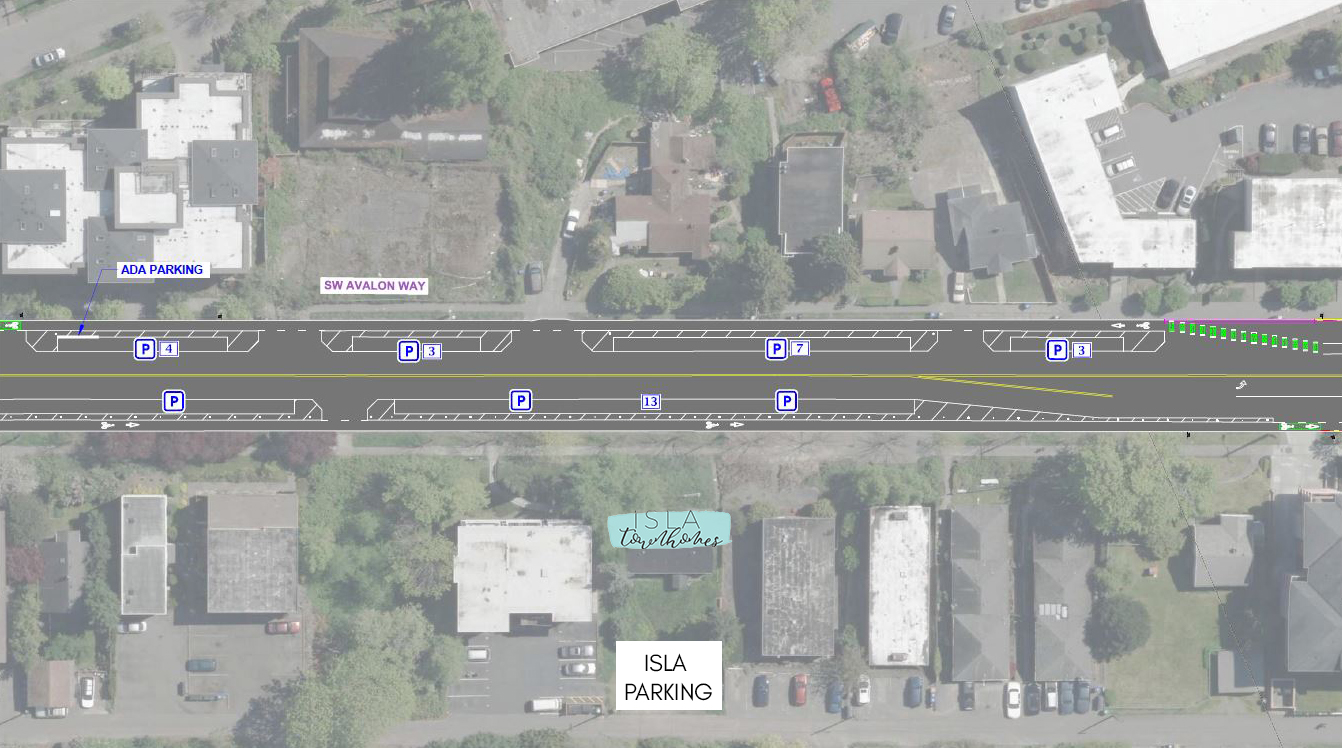 The Benefits to the Neighborhood
While construction can be a pain to deal with in the short term, this project will help to make the neighborhood even better. The protected bike lanes will make West Seattle even more bikeable than ever! Want to go to Alki Beach? The new bike lane on SW Avalon Way will take you right to the Alki Trail, which is just about a half-mile away. The beach is less than a 15-minute ride away.
The new RapidRide transit island will be installed just north of SW Yancy Street on SW Avalon Way. It's less than a five-minute walk away and provides easy and quick access to downtown Seattle as well as the water taxi docks in Seacrest Park.
The infrastructure upgrades that are being completed will serve to make the street safer and the neighborhood more accessible to everyone. In addition, these upgrades will help to pave the way (pun intended) for future transportation improvements – like the Link light rail extension that's expected to come to West Seattle in 2030!
Getting to Isla
How you get to Isla during the paving project will depend on which areas the construction crews are working on at the time. We highly recommend taking a look at SDOT's 35th/Avalon Paving web page, which is updated regularly and describes where work is currently underway. The West Seattle Blog is also a wonderful resource for information as they publish SDOT's weekly update emails on their site. A search for "Avalon/35th" should bring up the most current articles.
As it's likely that parking will be limited along SW Avalon Way during construction, park like you live here and head to Isla's parking area when you come to visit. Parking is available in the alley behind Isla and the alley can easily be accessed from SW Genesee Street as well as from SW Andover Street.
We put together a little map showing the various ways you can get to Isla from the West Seattle Bridge. The accuracy of this map will change based on what construction projects are happening. So please check the WSDOT web page, the West Seattle Blog, or even Google Maps (which tends to be pretty accurate regarding road closures) prior to coming out to one of the open houses. You can also give us a call at (206) 413-9555 to get more information on access to Isla.