Make Ballard Your New Home
UPDATED - 8/13/18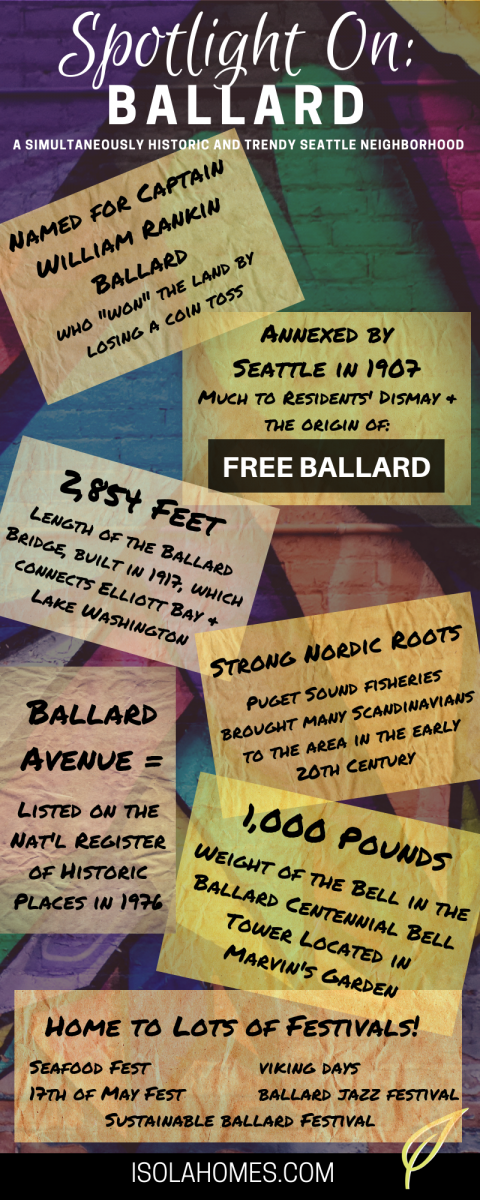 Ballard, a neighborhood boasting Nordic origins and rooted in the seafaring trade, is also home to some of Seattle's best restaurants and shopping. Aside from the classic Seattle tourism hotspots that are closer to Downtown, such as the Space Needle and Pike Place Market, the Ballard neighborhood has a lot to offer everyone. If you're considering about moving to this vibrant neighborhood, here's a quick look at all that you can look forward to enjoying when you live in Ballard.
Make sure to visit the Hiram M. Chittenden Locks. Also known as the Ballard Locks, they're an important part of the neighborhood with beautiful grounds, a fish ladder with a viewing area, and the Botanical Gardens right next door. The site is excellent for sightseeing and picnicking. Beach bonfires at Golden Gardens Park during a warm summer night is a magical way to spend an evening outdoors. The very walkable Market Street in Ballard serves as the neighborhood's business district, and you'll find the sidewalks lined with red brick storefronts and galleries. Ballard Avenue is full of places to go for home decor and specialty gift shops. Seasoned Seattleites are aware that Ballard was once more difficult to travel to and from. Today, It's easy to get to SLU, Fremont, Westlake, and the north end of Downtown from Ballard. Ballard's newfound accessibility makes it more a part of Seattle life, as well as making it a sought after area. Ballard's hip nightlife scene revolves around Ballard Avenue, where you'll find a collection of neighborhood pubs, chic cocktail bars, and live music venues.
Once upon a time, Ballard used to be an independent city nicknamed "Shingle Town USA." This unique moniker came about due to the fact that, in the early 1900s, Ballard was the top shingle manufacturer in the world. One of the reasons for this prominent position was unfortunately due to the Great Seattle Fire of 1889. As much of Seattle's industrial district was destroyed, rebuilding efforts depended completely on Ballard mills being able to provide both shingles and lumber. More shingle mills were constructed and Ballard's population grew dramatically to fill the available jobs. While the shingle mills were producing approximately three million shingles a day in the early 1900s, the town's infrastructure had a difficult time keeping up with the growth. In 1907, it became necessary for Ballard to become a part of Seattle in order to ensure access to things like safe drinking water. The area's shingle and lumber industry slowly petered out over the years and the last shingle mill in Ballard closed in 1984.
If you want to experience some of the best that the neighborhood has to offer, here are some of our favorite places to go in Ballard. We appreciate good food, so when we're hungry we look no further than Un Bien on 15th Ave NW for Caribbean and Latin American-influenced sandwiches. Alternatively, we might make our way down to eat at Hi Life, located inside an historic firehouse, which serves a seasonally changing menu. After a long day of work, we unwind with a handmade cocktail at Essex or some local craft beer at Ballard Beer Company. When we need to get some home shopping done, we go to the funky Ballard Consignment Store or one of the many other boutique shops located on Ballard Ave!
Many residents of Ballard have chosen to live here because of its eclectic feel. It does a fantastic job of mingling old and new elements - essentially honoring both the past and future of the area. Residents love the fact that Ballard feels like its own small town - and one with tons of great options for dining and nightlife. As Seattle has grown, people who live in Ballard now have many more options for getting to downtown and other areas of the city.
If you're considering moving to Ballard and buying a home, you're in luck - Isola Homes has a new project in Ballard! Talta consists of 53 Townhomes and Live/Works coming to Ballard in 2018! For even more information on Ballard, check out our article "Living the Mariner Life in Seattle's Ballard Neighborhood."